GUYS, oh my god we really need a catch up don't we? I feel like I haven't had a chance to sit down and just type and update you lovely readers in the longest time. Maybe a few weeks?! That feels incredibly weird. Sorry, I'll try not to go that long again 😉
I'll start by squealing over how well this week has gone! I get so busy sometimes that I barely have time for a proper night's sleep, to pamper myself or to even hang out with friends. Basically anything good or normal, haha. However this week, amidst the madness of my schedule I managed to indulge in using lots of my recent Lush goodies; like Prince Charming (mmmmm), Unicorn Horn (SO GOOD) and even throwing some Fairy Dust all over myself for extra fairy princess feels. It felt really good to even just take an hour to relax and think of myself to be honest.
I also finally went and got my thumb tattoos, which I've been wanting for at least 2 years! I'm so incredibly happy with how they turned out, and they didn't even hurt! I already have another finger tattoo, which I got years ago; but I remember that one being super painful. So I was really surprised on Wednesday when I got a moon and planet tattoo on each of my thumbs, and it felt completely fine!
Post was super amazing this week; not a bill in sight, and only the good stuff being delivered by my postman. THANKS DAVE. (I'm kidding, I don't know my postman's name. I probably should though..).
If you have me on Instagram or Twitter, you'll have probably already seen a very special palette I was gifted this week, and I'm so excited to be using it. I'll post about it on here soon, after I've used it plenty. But it really cheered my day up to get such a lovely gift.
I also treated myself to some new clothes; including the most beautiful black tulle skirt (think princessy), which I might even get some outfit photos in soon, eep.
And finally in the post, was my collaborative stationery project with Paperhaul for their February box. I have been working with them to create custom illustrations to feature on all their lovely notebooks, cards, tags, washi tape, etc – and it's been amazing!
To see my own work on actual real life products has been a dream of mine for as long as I could remember, so this project means the world to me; and I'm even a little bit proud of myself. Is that really lame to admit??! If you fancy getting your own Paperhaul stationery box with my designs on, I actually have a giveaway over on Twitter for you to win one. Just visit this status and follow & retweet, and you'll be in with a chance to win your own! If you are the lucky winner, please tweet me a photo when it arrives so I can squeal with joy all over again, haha.
Other highlights from this week include the three lovely ladies I sent postcards out to, receiving them and tweeting me lovely messages. If you didn't know, I decided I wanted to send out more happy snail mail, to make people smile; so as part of #TheGirlGang message about positivity and spreading joy, I asked out on Twitter if anyone wanted to receive some random mail from me. The response was huge, and it made me decide to keep doing it as a weekly project. I'll tweet out about it on The Girl Gang Account each week, and choose people at random to send pretty postcards to 🙂
I'm calling it the Positive Postcard Project and I hope you guys will join in! Feel free to start your own, sending out cute mail to other members of #TheGirlGang and spreading a little bit of joy.
And finally the last thing I'm really happy about this week is that I've actually made some time in my schedule to see friends this weekend. I know that's not a big deal to some, but this is very rare for me these days! Haha.
I'll stop boring you guys now, and thank you if you've bothered to read all this. I really do appreciate it more than you know.
I hope this weekend is lovely for you all!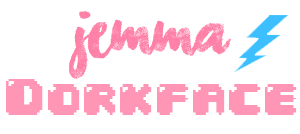 Keep up to date with my latest posts by following me! 🙂
Bloglovin – Twitter – Instagram – Pinterest – Facebook

INSTAGRAM
TWITTER
PINTEREST
*Any items sent for review are written about 100% honestly and in my own words. Sometimes collaborative content and partnerships with brands will appear on this blog. Affiliates links are used throughout this blog.