2 YEARS GUYS. 2 YEARS! I can't believe I've now had this blog two years, but here we are, some 550 odd blog posts later. It feels really cool, like I now have a complete archive for the past two years of my life and what I've been doing.
During this time my life has completely changed. When I started, I was working full time at the Post Office, miserable. I felt in a rut because I had left University with no plan or direction, and I was never creative any more. I wasn't very social and I wasted half my time just watching Netflix and doing nothing of any importance. I wasn't inspired at all. So I decided to finally start a blog; after playing about with the idea for a few months. I'd had previous blogs over the years, but I really wanted one that would stick, that I could love. So I opened up Blogger and typed in 'Dorkface'.
Fast forward two years and here I am. Things couldn't be more different! I now work for myself as an illustrator, blogger, and social media assistant (I don't use that term lightly just FYI, I was professionally trained in the career, and still only consider myself a beginner). A lot of my friends are now bloggers, and I meet new ones all the time. I've created The Girl Gang, and it's brought me so much happiness (and new challenges!), and I can honestly say I now live a very creative life. It's crazy how much has changed.
That's all down to you guys, the ones who read this blog. I'm so thankful that anyone wants to visit this little website, let alone leave me comments, follow me, or get to know me. It's something I'm grateful for every day.
With that in mind, I wanted to do a little giveaway for you guys today to celebrate. So I've put together some things I thought you might like, and I've tried to add a little of everything; so everyone is happy! There is a list of everything below, along with some 'rules' etc, so take a read of that if you could.
Thanks for making this blog a place that really feels like home <3
Included in this giveaway;
1. Lush unicorn horn
2. Merumaya mud marvels mask
3. St Moriz self tanning mousse
4. Treacle Moon 'One Ginger Morning' shower gel
5. 2 x A4 fun prints
6. Crabtree&Evelyn ultra moisturising hand therapy
7. Essence 'All about roses' eyeshadow palette
8. 2 packs Vero Moda tattoos
9. 2 packs 7th Heaven face masks
10. 1 Girl Gang patch (yay!)
11. Chloe Love Story shower gel
12. 1 Caroline Gardner notebook
13. Book of pretty flower postcards to colour
14. Mio body brush
15. 1 Paperhaul A6 notebook (with my own design on!)
16. a Paperhaul postcard (again, my design)
17. 1 Dizzy Miss James greetings card
18. Essence XXXL shine gloss in Fuschia
19. QIBest Lipstick in red
20. Lipcote sealer
21. 1 IAMHOUSE greeting card
22. IAMHOUSE sticker
23. 1 x washi tape
24. Rock on Ruby makeup bag
25. A beaded necklace made by meeeee!
And now, some rules/info/etc!
You must be following me on Bloglovin & Twitter to enter, and please dont unfollow because that's mean and I'll be sadface.
UK Entrants only – SORRY! But postage will be expensive anyway, so international posting is not an option.
This giveaway will run from 20th March to April 12th 2016.
All entries will be checked and any false entries will be removed.
If you are under 18 please ask your parent/guardian/homeowners permission before you provide your address if you win.
The prize cannot be exchanged, swapped or refunded.
The prize will be sent in the post via Royal Mail Second Class. If anything is lost/stolen/broken this is not the fault of myself, and the responsibility is with the chosen courier. I am under no obligation to provide replacements.
The winner will be randomly selected via Rafflecopter and notified via Twitter & email. If no reply has been received within 7 days from the initial contact, another winner will be randomly selected.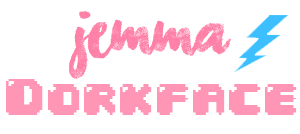 Keep up to date with my latest posts by following me! 🙂

INSTAGRAM
TWITTER
PINTEREST
*Any items sent for review are written about 100% honestly and in my own words. Sometimes collaborative content and partnerships with brands will appear on this blog. Affiliates links are used throughout this blog.